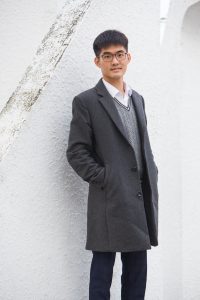 Taiwanese pianist Ming Yang earned his Bachelor's degree in music at National Taiwan Normal University, where he won the on-campus concerto competition and performed the Piano Concerto No. 23, by Mozart, with NTNU Symphony Orchestra. Thereafter, he performed Rachmaninoff Piano Concerto No. 2, mvt. He with NTNU New Music Symphony Orchestra. During his undergraduate education, Yang studied with Daming Zhu, a Van Cliburn winner. Yang also held three recitals in the Recital Hall of NTNU, featuring solo compositions by Mozart, Beethoven, Chopin, Bartok, Ravel, and Shostakovich.
Yang currently studies with Timothy Hester at the University of Houston, where he is pursuing his Master's degree, double-majoring in piano performance and collaborative piano. In UH, Yang frequently plays in solo or chamber music masterclasses. As a fine collaborative pianist, he was invited to perform with the cello
professor, Dr. Eunghee Cho, as well as colleagues playing various instruments. He is also the assistant director of the AURA New Music Ensemble.
Since his high school period, Yang has accumulated teaching experiences from five-year-old kids, school students at all levels, to adults. He can precisely point out students' issues and provide helpful approaches to fix them. Having taught kids under twelve many times, Yang receives acclaim from students as a patient teacher. For advanced students, Yang's lessons also feature exploring musicality and interpretation. In addition to being a piano tutor, Yang also teaches theory and violin.
In addition to solo performances, collaborative performances, and education, Yang is also active in chamber music. He won the first prize in the National Student Competition of Music, group of piano quintet, as the pianist. In 2020, his trio, Thyme Trio, was invited to play in Pingtung Performing Arts Center and received enthusiastic responses. Thyme also gave a series of charitable performances for kids in country schools.