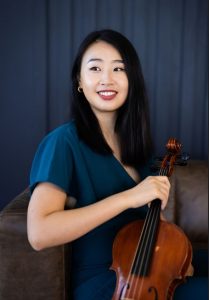 Weilan Li, from Shenzhen, China, is currently pursuing a graduate degree at the Shepherd School of Music at Rice University where she studies viola with Ivo-Jan van der Werff. She received dual bachelor degrees in Viola Performance and Cultural Anthropology at Bard College in New York.
Through DACAMERA Young Artist's Program in Houston, Weilan has enjoyed serving the Houston community, performing educational concerts and leading music classes and workshops across the city. She also teaches the non-major viola lessons course to undergraduate students at Rice University. From 2022-2023, Weilan has brought music to over 600 students!
Weilan teaches both violin and viola. Her teaching philosophy is to encourage students to take proactive steps within themselves. Weilan is a strong believer in encouraging positive connections with music from a young age. She believes that giving positive and constructive feedback to students helps guide their interest and curiosity in solving problems in music and beyond. She is also patient and passionate in helping each student with creating their unique systems of practice to reach their individual goals. Her mission is to make students feel confident in themselves and their playing at the end of each lesson.
As an outstanding performer, Weilan has participated in well-known music festivals across the world and the United States. Her recent music festivals include the Sarasota Music Festival in 2022 and Norfolk Chamber Music Festival in 2021. She was a fellow and principal violist at National Orchestral Institute (NOI) in 2019. Weilan was also the principal viola of the National Youth Orchestra of China (NYO-China) in 2017, where she performed with Yuja Wang in a Carnegie Hall concert and on tour in China in five cities. Weilan was a second prize winner in the Viola Category in the Hong Kong International String Competition in 2014.