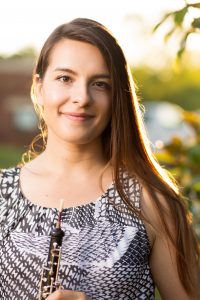 Ms. Keating is currently earning a Doctorate in oboe performance at Rice University, studying with Robert Atherholt. Also an active freelance oboist, Lauren has performed with the Cleveland Orchestra and the Rochester Philharmonic Orchestra on numerous occasions, as well as the Joffrey Ballet Orchestra and the New World Symphony in Miami, FL. She was previously an Associate Oboist for the Civic Orchestra of Chicago's 2014-2016 seasons.
Previously, Lauren graduated from the Cleveland Institute of Music with her Master's degree in oboe performance, studying with Jeffrey Rathbun. While there, she received the prestigious John Mack Award for oboe. Keating received her Bachelor of Music degree in Oboe Performance from Northwestern University's Bienen School of Music, with a minor in Musicology. She received the Ray Still Award for musical and academic excellence. Her principal teachers were Michael Henoch, Robert Morgan, and Scott Hostetler.
Lauren was an oboe fellow at the Music Academy of the West for the summers of 2020 and 2021, studying with Cynthia DeAlmeida and Eugene Izotov. In 2018, Lauren was offered a fellowship for the Texas Music Festival, where she studied with Robert Atherholt and Jonathan Fischer. Lauren received an oboe fellowship from the National Orchestral Institute in 2017, where she studied with Robert Atherholt, Mark Hill, and Robert Walters.