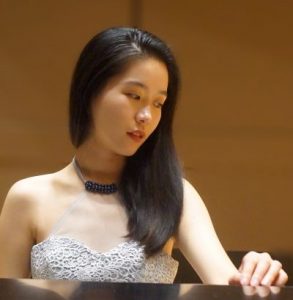 Born in Nanchang, China. Kexin Li started learning piano when she was 5 years old. By showing a great interest in music, she has made her mind of being a professional pianist since she was a little girl. She received her Bachelor of Music degree in Piano Performance at Sichuan Conservatory of Music in China under the tutelage of Professor Bai Tao and Professor Xu Yi. She holds Master of Music degree in Piano Performance and Pedagogy, studied with Dr. Daria Rabotkina at Texas State University. Kexin also holds a Graduate Assistant position and taught piano at the university.
In the past years, Kexin has been dedicating herself to piano. She was the teaching assistant of the 3rd Sichuan International Piano Festival in China, staff of 9th Texas State International Piano Festival in TX. Performer, volunteer at Mariposa Homes.
She has given several recitals at TXST, "In memory of Scarlatti, Prokofiev, Haydn" and so on. She is also very interested in teaching piano and has rich teaching experience of different levels students. Among the students she has taught, some of them has already achieved many awards.