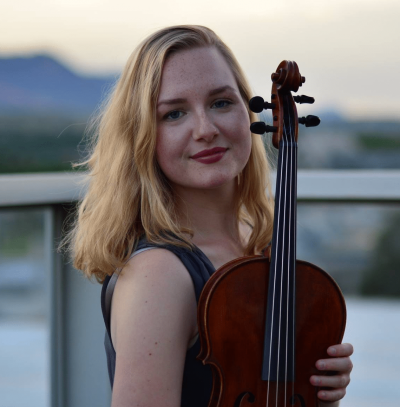 Rebecca Barnett, a Baltimore native, began her musical studies at the Peabody Preparatory. She is currently under the tutelage of Ivo-Jan van der Werff at Rice University, pursuing her masters degree. Previously, she studied with Katherine Murdock at the University of Maryland.
Becca enjoys traveling, especially when it involves performing. She has participated in the Kneisel Hall Chamber Music Festival, the Colorado College Summer Music Festival, the Bowdoin International Music Festival, the Innsbrook Summer Academy and Festival, the Texas Music Festival, and the National Symphony Summer Music Institute.
As a soloist, Rebecca recently performed Mozart's Sinfonia Concertante with the Montgomery College Orchestra. In addition, She was a finalist in the University of Maryland Concerto Competition in both 2016 and 2017, for her performances of the Bowen and Rozsa viola concertos. She was also recently awarded the Richard Louis Caplan Memorial Scholarship, and was the 3rd Prize winner of the 2015-16 EnKor International Music Competition for Strings. She plays on a 1998 Kiernoziak viola and Seifried bow generously on loan from the Maestro Foundation.
Rebecca is passionate about teaching, and encourages her students to explore as many musical opportunities as possible as they find their voice through their instrument. Her most immediate goal for students is that music becomes a positive and enriching part of their daily lives, something that they can turn to not only as an outlet for creative expression, but also as a personal project that they enjoy working on. She believes that working on technique and musicality are equally important, and can be improved simultaneously. She also feels it is very important to approach each musician as an individual, with separate needs and goals from other students.