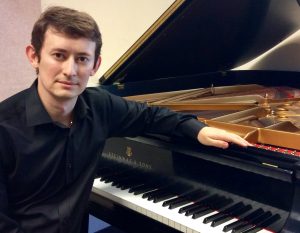 Ruslan Bayazitov is a sought out pianist, pedagogue and composer with international reputation. He is a graduate of Kazan State Conservatory in Russia, where his studies were sponsored by Korston Corporation's competitive scholarship. Ruslan Bayazitov was invited to continue his education at Musik und Kunst Privat Universität der Stadt Wien in Austria, where he received his master's degree in 2015. He completed his postgraduate study at prestigious Universität für Musik und Darstellende Kunst in Vienna.  He was fortunate to study with Klaus Sticken, Thomas Kreuzberger, Evgueni Sinaisky and Boris Kuschnir.
Mr. Bayazitov continued his education at Baylor University, Texas in the US as a piano and composition major with Krassimira Jordan and Dr. Scott McAllister. Since 2019, he is pursuing his doctoral degree in piano performance and symphonic conducting with Dr. Tali Morgulis, Professor Timothy Hester and Professor Franz Anton Krager at the Moores School of Music, University of Houston.
Mr. Bayazitov was a chairman of the regional piano competition "In Harmony with The Piano" in Penza. He also judged All Star Festival in Texas. His book Piano Pieces for Children was published in Russia.
In Vienna he premiered "Sequitur XIII" for extended piano and live-electronics by highly esteemed Austrian composer Karlheinz Essl. In Houston he participated in the "Piandemia" project performing Russian music. Steinway Artist Krassimira Jordan performed Ruslan's piece at Washington International Piano Arts Council. The symphonic piece, Christmas Variations on "Silent Night," was recorded at the prestigious Gnesins Russian Academy of Music under the baton of Vladimir Yatskevich.