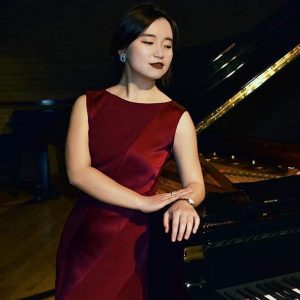 Xuefei Liu is a Chinese concert pianist, who has been praised by critics as a "musician with wonderful communicative and expressive quality." She has performed solo recitals and chamber music concerts in China, France, USA, and Italy. Recently, Liu appeared in the Candlelight concert series hosted by Fever, Elkins Lake Classicals concert series, Lives of the Piano concert series at the Manhattan School of Music, and Young Professionals at Home hosted by CAPMT recital series.
Liu has numerous award recognitions, including the first prize winner in the International Music Competition for Best Liszt Performance, Grand Prix in the International Nice Côte d'Azur Piano Competition, third place in the Concours International de piano de la Ville de Gagny, first prize and special prize in the Swayder Hong Kong Piano Competition.
Liu has participated at the Interharmony International Music Festival, National Music Festival, International Piano Festival at the University of Houston, and Summit Music Festival studying with renowned instructors including Saleem Ashkar, Alexander Kobrin, Asaf Zohar, Abbey Simon, and Arkady Aronov. She has also worked with musicians such as Nelita True, Logan Skelton, Tanya Gabrielian, William Wolfram, Anton Nel, Antonio Pompa-Baldi, Alexander Korsantia, and Gabriel Tacchino. She has been described by these renowned musicians as "an artist with electrical energy, tonal blossoming in so many colors and timbers, and spiritually depth".
Liu received her Bachelor of Music at the Eastern New Mexico University with Dr. John Olsen, her Master's at the Manhattan School of Music, studying in the class of the Van Cliburn gold medalist Mr. André-Michel Schub, and her Doctor of Musical Arts degree in piano performance with minor in piano pedagogy at the University of Houston Moores School of Music with Dr. Tali Morgulis, Dr. Courtney Crappell, and Dr. Todd Van Kekerix.
As a passionate teacher and active outreach musician, Liu serves as an Adjunct Professor in piano at the Lone Star College-Montgomery. She has previously been a teaching assistant at the University of Houston's Moores School of Music and a faculty member of the Community Arts Academy at the Moores School of Music. Liu is the program director at the Vivo Professional Music School in Houston. She has performed in outreach concerts throughout Houston in Cullen Performance Hall, MD Anderson Cancer Center, Houston Methodist Hospital, and Holly Hall Retirement Community. Liu has previously been a faculty member at AFA (American Festival of Arts) in Houston, the Brooklyn Musical Arts, and the 88 Keys of New York in New York City.