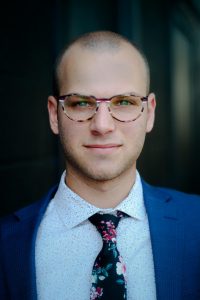 Fascinated by the art of storytelling and capturing human expression, American composer/pianist Alex Berko (b.1995) draws from a wide of array of musical and worldly influences to create dynamic and deeply expressive works of sonic art.
Berko has collaborated with the Monterey Symphony, Cape Symphony, Bloomington Symphony, Donald Nally, The Crossing, NOTUS Contemporary Vocal Ensemble, Cathedral Choral Society and the Washington National Cathedral, Del Sol String Quartet, Boston New Music Initiative, and jazz/folk singer Kate McGarry. Most recently, Berko was selected as the winner of the 2019 American Prize in Choral Music and recently won a Regional Emmy Award. His work has also received national recognition from the Society of Composers, Inc. (SCI), American Society of Composers, Authors, and Publishers (ASCAP), American Choral Directors Association (ACDA), and the Cleveland Institute of Music. Additionally, he has held fellowships or residencies at Big Sky Choral Initiative, RED NOTE New Music Festival, Atlantic Music Festival, Glen Deven Ranch in Big Sur, California Summer Music, and NYU/ASCAP Film Scoring Institute.
Berko is a recent graduate of Indiana University's Jacobs School of Music with a BM in composition, an outside concentration in piano, and a certificate in entrepreneurship. He received extensive training at the Cleveland Institute of Music pre-college division with Keith Fitch (composition) and Sandra Shapiro (piano). Primary teachers at Indiana included David Dzubay, Claude Baker, Aaron Travers, Don Freund (composition) and Jean-Louis Haguenauer and Edmund Battersby (piano). Berko is now pursuing his  MM  in composition at  Rice University's  Shepherd  School of  Music,  studying with  Karim  Al-Zand.  He is a  member of  ASCAP.