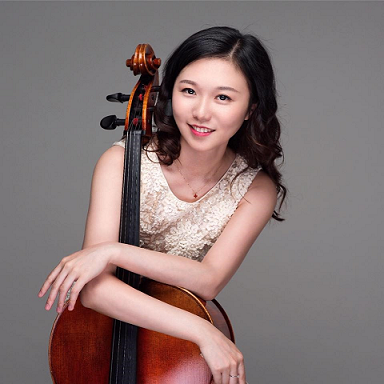 Praised by many respected media and magazines such as NEW YORK LOUNGE,  IFENG, SOHU, CNHUBEI, WHWB  CJN and First Life, as "enthusiastic to make splendid lyrical sounds", "solid and tonal warmth; a gifted women musician with wisdom," Cellist Zhuxi Wang has appeared as soloist and orchestra cellist with many prominent symphony orchestras including New York, Paris, Denver, Quebec, Beijing and the Aspen Philharmonic.
In recital and chamber music, Zhuxi has performed at Carnegie Hall in New York, Salle des colonnes and Chapelle de la Trinite Hall in Paris, Salle Francoys-Bernier Hall in Canada, National Centre for the Performing Arts in Beijing, and the Century Theater in Beijing. Festival appearances include the Aspen International Music Festival, Fountainebleau International Music Festival, Domain Forget International Music Festival, and the Beijing International Music Academy. She has collaborated with eminent musicians including Ophelir Gaillard, Alain Meunier, Bonian Tian, Dinara Klinton and Chiharu Iinuma.
Born in China to professional musicians from New York and Beijing. A graduate of the Manhattan School of Music, Beijing Central Conservatory of Music and She received doctoral degree (DMA) at the College-Conservatory of Music in Cincinnati. Zhuxi is a pupil of cellists Philippe Muller and her teacher also includes Mula Na. Committed to education and sharing her passion for music, Zhuxi continues to find new ways of reaching young cellists and music lovers around the world.
She was the recipient of College-Conservatory of Music and the Manhattan School's Incentive Award and received the Yuzhong Properties Foundation Grant. Zhuxi Wang has won the First Prize of New York Lillian Fuchs Chamber Music Competition and National Cello Competitions in China. She was on the Jury of the 15th China Hubei Children's Talent Show and is a Fellow of Chinese Musician Association. Her dissertation, which has precisely focus on pedagogical approaches, titled "The Development of Performance Techniques and Musical Expression in the Cello Sonata in D Minor, op. 40 by Dmitri Shostakovich" is set for public distribution and publication through the MTNA Association in the United States this coming fall. Zhuxi plays a c. 1864 cello by Hippolyte Silvestre, Lyon, France.