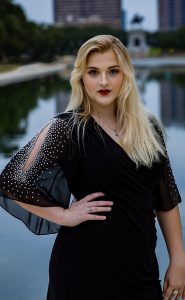 MiaRose Hanberry was raised in a small town in south Texas. She started to learn the techniques of singing at the age of five. She then proceeded to learn the guitar at age seven, the piano at age eight, and saxophone at age twelve. 
MiaRose is currently obtaining her bachelor's degree in vocal performance at the Moore's School of Music at the University of Houston. She is studying under the world renown tenor Joseph Evans and has been teaching and giving music lessons to many others over the past five years. 
MiaRose has earned many awards for her performances such as obtaining first chair in the Texas All-State Choir for three consecutive years. She has performed in New York, Kansas, and Philadelphia. However, she is most proud of her performance with the International Honors Choir at the Sydney Opera House in the summer of 2017.