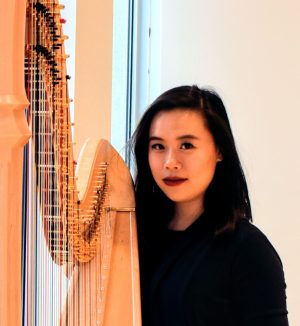 Harpist Kelsey Sham is currently in her first year of graduate studies at Rice University on a full-tuition scholarship, studying with former Principal Harpist of the Houston Symphony, Paula Page. Ms. Sham completed her Bachelors of Harp Performance degree at the Oberlin Conservatory of Music under world-renowned recording artist and pedagogue, Yolanda Kondonassis, where she frequently worked with student composers to promote contemporary music and art installations. Ms. Sham also holds a degree in Music History from Oberlin College and Conservatory.
A dedicated orchestral musician, Ms. Sham has performed with ensembles such as the Houston Civic Symphony, Corpus Christi Ballet Orchestra, Eastern Music Festival, Chautauqua Institution in New York, The Pacific Region International Summer Music Academy, and Texas Music Festival. In January 2019, she was chosen as a harpist for the "Oberlin in NYC" Tour and performed in Carnegie Hall. Praised for her energetic and passionate performances, she was also selected to perform for the National Federation of Music Clubs Recital in June 2017 and the Inauguration Ceremony of Oberlin College's current president, Carmen Twillie Ambar, in 2018.
A passionate advocate for arts education, she currently teaches at Vivo Professional Music School and works with Young Audiences of Houston to promote the exposure of the Fine Arts within all communities of all backgrounds. She is also currently collaborating with multiple Asian American artists nationwide on collaborative projects to encourage the value of the Fine Arts within Asian cultures. In 2019, she was named a Semi-Finalist in the J. William Fulbright grant for her proposal on interdisciplinary performance and classical harp.
A native Houstonian, Ms. Sham considers it a priority to give back to the programs that helped her develop into the musician that she is today. She currently works in various intermediate school programs as a clinician and often engages in music-based community outreach for young children. In her spare time, she enjoys cooking, reading, and visiting musuems.