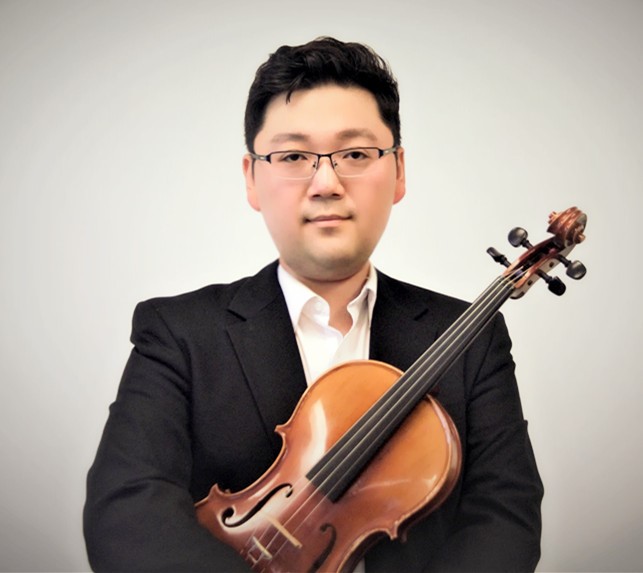 Mr. Jiang who was born in a music family. His parents are violinists in Shandong Symphony Orchestra. He started to learn the violin when he was 3 years old. He is passionate about music education and willing to share my playing experience for those young musicians. So, he decided to get a Master of Music Education and a master of viola performance double major.
He received a full scholarship to help him finished a Bachelor and Master degree in the United States. He was the concertmaster and principal viola in LOU symphony orchestra. Also, he has joined and performed in various orchestras and quartets in the United States.
He believes everyone can learn music. They just have different talent, which requires a smart and right teacher to help them to discover and exploit their potential musical ability. They will gradually develop their musical ability. Musical ability is not an inborn talent, but it can be developed. Having fun and enjoying learning from music is also important.
He has more than 10 years of violin teaching experience. He has been teaching violin classes in the Oxford String Project for three years. He has taught both beginning and advanced groups. The students vary in age from 5 to 18. He always tries his best to let his students love playing music and to make sure that they learned everything correctly.
Certification of Awards:
The Fifth Art Festival of International Students in Hong Kong violin competition diamond award.
The Fifth Strait Youth Arts Festival second prize in violin professional group
The Sixth Asian Arts Festival Shandong contest second prize in violin professional group
The Charming China International Culture Art Festival first prize in viola professional group
The Fifth Art Festival of International Students in Hong Kong Shandong contest First prize in viola professional group
The Fifth Art Festival of International Culture Young People in Hong Kong Event third prize in bel canto professional group
The Charming China International Culture Art Festival third prize in bel canto professional group
The 9th World Arts Festival of Overseas Chinese Violin competition Gold Medal