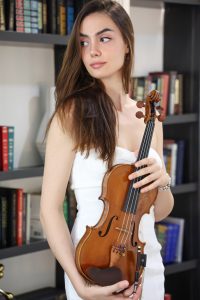 Diana Tarin is a very passionate violin teacher and enjoy her students showing love and hard work in the music field. She adapts her lessons to suit the individual needs and aspirations of her students, sharing her passion for music in an inspiring and captivating way. Her teaching style is distinct, motivating, and remarkably effective and affective. She equips her students with essential musical skills, ensuring they have a strong foundation in technique and performance to pursue their musical ambitions.
Native from Spain, Ms. Diana Tarin finished her bachelor's degree in violin performance the Madrid Royal Conservatory of Music in 2016 under the supervision of Dr. Manuel Guillen. Ms. Diana Tarin decided to pursue further music education abroad after she traveled to the U.S. and attended several performances in 2016. Then she began work on a Master of Music degree specialized in violin performance in fall 2017 at SHSU. While a graduate student at the university, she was awarded with full Scholarship and Assistantship for outstanding academic performance. While she completed her master's she became part of the HWO program with the purpose of teaching violin and orchestra to the students at the University. She taught both in English and Spanish for the families that were involved in the project.
As an outstanding performer, Diana has participated in well-known orchestras in Europe and U.S. from a very early age. As example we have The Royal Conservatory of Madrid Classical Orchestra. – Complutense University of Madrid Symphony Orchestra. – Valencia Regional Government Youth Orchestra – Youth Orchestra of the Community of Madrid. – Youth Orchestra 'Federació de Societats Musicals of the Valencian Community. – International Conductors Masterclass 'EL ESCORIAL' – Mad4strings – Symphony Orchestra 'Luis Cobos'. – Orchestra in the program "The red carpet" in RTVE, with Jose Luis Moreno. – Symphony Orchestra 'Filarmonía' Conductor: Pascual Osa. – The Woodlands Symphony Orchestra. Conductor: Darryl Bayer – Sam Houston State University Orchestra. Conductor: Dr. Jacob Sustaita.
Ms. Diana's teaching philosophy emphasizes empowering students to take initiative in their learning journey. She places great importance on fostering a positive relationship with music from an early age. Weilan firmly believes in providing constructive feedback that nurtures students' interest and encourages problem-solving skills, not only in music but in life as well. She combines patience and passion to assist each student in developing their personalized practice methods to achieve their specific objectives. Her ultimate goal is to instill self-assurance in students, ensuring they feel confident in their musical abilities after every lesson.